Where we're at: I'm recapping my 2019 travels, which included this trip to the Dominican Republic in February. Need a Caribbean break of your own? Nab one of the last two spots to our Wander Women Cabarete: Aerial Arts + Adventure retreat next month!

I can tell you that on the long list of countries I might have anticipated would be my 40th, the Dominican Republic was not anywhere to be found. Not that I was averse to nor unfamiliar with the Caribbean. I'd visited Aruba, The Bahamas, Bermuda, Bonaire, the Cayman Islands, and Jamaica already, and many other islands in the region ranked on my bucket list.
But somehow, the Dominican Republic, the most visited country in the Caribbean with more than 6.5 million tourists per year, hadn't caught my attention yet. If someone had whispered in my ear about the hidden gem that is the north coast, I didn't hear it. All I knew about was the country's ubiquitous all-inclusive resorts, mostly clustered around hustle and bustle of the east coast in Punta Cana. And while I'm all about the occasional well-deserved true vacation, I tend to prioritize trips to bohemian beach towns and adventure enclaves.
Which is exactly what I found in Cabarete.
The first three nights of my unexpected trip, planned after accepting an impromptu invitation from my girl Amanda to join her winter getaway, were spent based in the tiny surf hamlet of Encuentro. However, we frequently hailed down the overcrowded local minibuses known as guaguas to head ten minutes down the road to Cabarete, and once Amanda headed back to New York, I moved over to a retreat center in Cabarete for two nights. I was there to research it as a possible future Wander Women Retreat destination, and spoiler alert: we're heading there next month — and I can't wait to be back.
But let's back up. If you've heard of Cabarete at all, it's likely for its reputation as a kitesurfing and windsurfing mecca. Yet this charming surf town has so much more to offer — tan sandy beaches, organic healthy eateries, a plethora of other adventures, and off-the-charts good vibrations.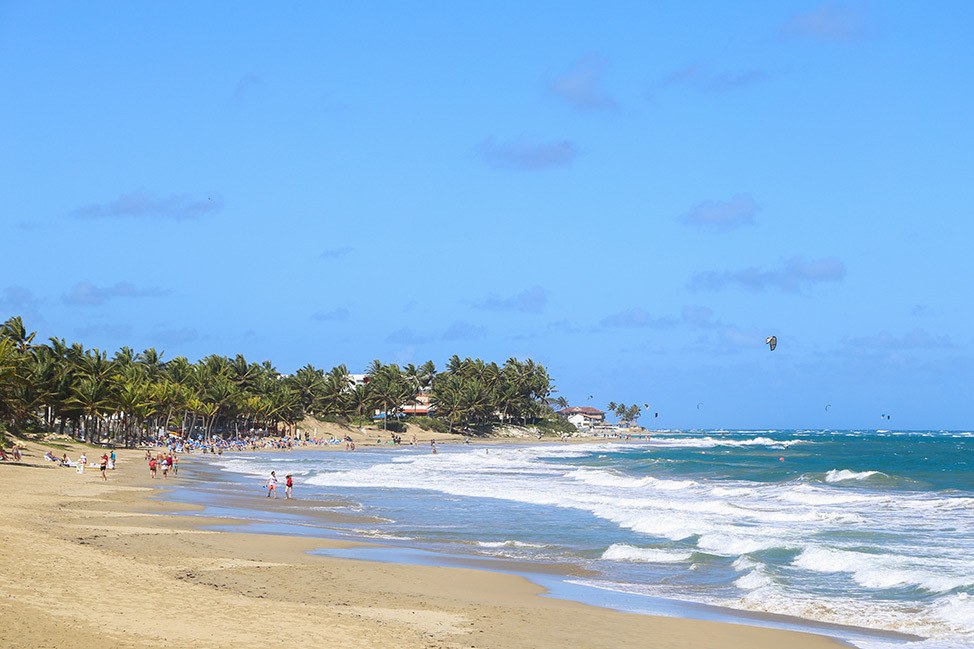 I've been exploring the Caribbean for years as an independent traveler, and so I knew I had stumbled upon something special in Cabarete. I had no idea this kind of destination — a laid back mix of locals, backpackers, and expats — existed in the Dominican Republic. In terms of traveler vibe, it reads much more as a beach town you'd stumble upon in Central America than one you could technically reach by Caribbean cruise ship.
Isn't it fun to be pleasantly surprised, in a place as easy to reach as this? Cabarete is no tucked-away treasure you have to labor for days to reach. It's a twenty minute drive from Puerto Plata airport, with direct flights from around North America and Europe.
Ironically, I've yet to try any kind of surfing here — kite, wind, or otherwise. While we will indeed be taking a surf lesson in Encuentro as part of my upcoming retreat, there's plenty more to do here than beach bum or grab a board. Here are a few of my favorite things to do in Cabarete, all part of what makes it such a magnetic destination.
Cafe-Hop
One of my favorite aspects of Cabarete? The colorful, healthy, organic cafe scene. Even in this tiny town, you could eat at a new one every day for a week! In fact, I had a full post coming up about my favorite places to eat in Cabarete.
But in the meantime, don't miss Fresh Fresh for a mind-bogglingly extensive menu of body-fueling breakfast, lunch and dinner options, or Vagamundo for a feel-good meal of gourmet waffles or smoothie bowls — the staff are primarily graduates of Niños de la Luz, a nonprofit organization that works to house street children in the Dominican Republic and Venezuela.
I'm eager to get back and try Honey Company, which offers a small menu of homemade greek yogurt, egg dishes, smoothies, kombucha and other snacks (but keeps limited hours — hence my missing it my first trip) and Cabarete Coffee Company, which also operates a social enterprise supporting the excellent Mariposa Foundation and serves salads, sandwiches, smoothies, and an array of breakfast foods.
And that's just the tip of the iceberg! Cafe hopping in Cabarete is a delight.
Boutique Browsing
While I'm the first to admit I'm not much of a shopper, I was pleasantly surprised to find that Cabarete has shops that go beyond the usual tourist trinkets and actually offer works by local artisans, too. It's easy to take home an authentic piece of the Dominican Republic, here. If you're in town on a Sunday night, don't miss the weekly market at Lax Ojo from 3-9PM.
Want to be sure to leave room in your suitcase for souvenirs? Pack a few items on the Mariposa Foundation's wishlist (some you might have hanging around your house!) and drop them off upon arrival, leaving plenty of room for handcrafted goodies. You might even pick some up right at Mariposa, like the cute clutches, backpacks and beyond made by Upcycled Sails, a group that saves old sails from landfills and gives them new life while providing jobs for local women.
Cowork
Nothing proves a destination is up and coming like the presence of a coworking space! Again, I was so tickled to stumble on Co-Cab that I just had to walk in and take a little tour. I can't help but think of what a great place this would be to settle down, surf, and catch up on work for a month.
Stay Fit
Long time readers know I'm unlikely to fall totally head over heels with anywhere that doesn't have a bustling yoga and fitness scene. Luckily Cabarete is all set in this department.
The Yoga Loft, where I'm hosting my retreat next month, has the most robust schedule with two classes per day, every day. Surfbreak Cabarete, Villa Taina, Hooked Cabarete, and Natura Cabana all offer a couple of yoga classes per week at prices ranging from $10-18 per class, while Blossom Yoga offers SUP yoga and aquafit classes at various locations.
And if you want to really work up a sweat, twice a day, bootcamp style classes are offered in the tiki gym location associated with The Yoga Loft at eXtreme Fitness — or you can hit the gym freestyle in off-class hours. I'm really excited to work out here during my retreat and start the new year strong!
Join the Circus
Of course, what I was most excited to discover in Cabarete, and what prompted my retreat-research-based trip extension, was the aerial arts center at eXtreme Circus. While there is no publicly posted schedule, the school does offer private and semi-private classes in the aerial arts of silks, lyra, and rope — just get in touch and they'll offer you a private or to group you with other students who are in town. Classes begin at $40USD.
I took a semi-private lyra class while I was in town, and went wild for the high ceilings and the open-air aerial ramp. What I'm super excited about in hosting our retreat here is it allows for unlimited open-gym when there aren't private classes being held in the aerial ramp. I can't wait!
Learn to Fly
Another exciting activity at eXtreme? The Flying Trapeze! I first tried the flying trapeze years ago in Koh Tao and I've been eager to get back in the swing of things ever since. Taking a trapeze class was top of my list for my time in Cabarete.
And I'm so glad I did, because wow does the universe work in mysterious ways. Upon joining the morning class one day of my trip, I quickly realized that everyone else in the group knew each other. They were a super welcoming crew, and I clicked right away with Brenna, who I'd come to learn was leading a retreat there in just a few days.
Brenna became not only a fast friend but also an incredible source of advice and insight for me as I planned my own retreat in Cabarete. She's a super sought-after instructor in New York and I now take her classes whenever I'm in town — and can get off the waitlist! It didn't take long before we too were itching to collaborate, and now we're days away from announcing our own aerial arts retreat together in Tel Aviv. Stay tuned to Wander Women Retreats for that announcement! Isn't it funny how the world works like that?
Who knows what life-changing moment could be awaiting at your own trapeze session! Two hour classes are held twice a day, from 10am-12pm and 4-6pm, and cost $40USD.
Enjoy the Nightlife
Let's face it — you're on a beach in the Caribbean, so sipping frozen drinks on the beach in the middle of the day is just as appropriate as dancing the night away. Cabarete beach is lined with places to do the former.
However, Cabarete is also a notably fun place to experience once the sun goes down. Thursday and Saturday are the big nights out, with Friday typically a bit more chill.
Amanda and I hit the town on a Saturday and after a "fancy" dinner — essentially, we wore shoes — started at a little roadside rum bar where we were the only non-local patrons and the bartender enthusiastically insisted we connect to the speaker and play whatever music we want — and we replied we couldn't possibly top the reggaeton he had going.
We continued on to the big club vibes at Lax Ojo and when that closed down, we hopped on the back of some new friend's motorbikes and headed to the official Cabarete afterparty location — the casino! It is a hilarious memory and I'm so glad we got to experience true Cabarete nightlife in all its glory.
Cave Hopping
Frequent travelers to the Caribbean will vouch that adventure activities of any kind — rafting, zip lining, canyoning, etc. — can easily run $100 per person when doing them requires signing up for a tour with transfers and whatnot. All of the above are available in the Dominican Republic, of course, most of them within easy distance of Cabarete.
But when Amanda and I read about a series of National Park caves we could walk to from Cabarete, and visit for a $20 tour? We were all over that!
The caves are part of El Choco National Park, and getting there involved a 15 minutes stroll through a residential part of town that gives you a much more comprehensive view of life in Cabarete than what you see on the beach front. Upon arrival we paid the fee, were assigned our mandatory guide, and headed off for our tour of three distinct caves.
Each one is unique — the first, a deep cavern with an eerie pool at the bottom. The second, a stunning display of stalagmites and stalactites. The third, a perfect swimming hole similar to a Mexican cenote. Along the way, the guides share facts on the local flora and fauna, and even delighted us with a sample of mamajuana, a Dominican Republic moonshine made from rum, red wine, and honey soaked in a bottle with tree bark and herbs.
That certainly spiced up the plant talk.
Scuba Diving
Of course, Amanda and I couldn't do an adventure trip together without going diving! Without knowing anything much about the diving in the Dominican Republic we signed on for two tanks with Dive Cabarete. That name is a bit of a misnomer as the dive shop and the closest reefs are actually in nearby Sosua — but they'll happily pick you up and take you the ten minute drive to get there.
Underwater, we found a colorful crew of sea creature friends — as well as some fascinating underwater canyons left over from a Spanish fort that once dominated Sosua.
We learned from our dive masters that there is quite a variety of diving on the north coast — wreck dives lying deeper offshore Sosua, caverns in the Rio Dulce, iconic island reefs at Cayo Arenal, and for the super experienced cave diver, there are tons of subterranean systems.
I'm super excited that next month I'll be checking out much more north coast diving — when a few of my dive-loving former retreat guests signed up for the retreat, we decided to extend the trip to dive together. Considering one of my objectives with this trip was to facilitate a space where women could connect with future travel buddies and create adventures, I'm absolutely thrilled to see that come to life!
Doing Good
The Dominican Republic has had a rough year. We can't ignore that. The bad press coming out of the east coast launched a media frenzy around the Dominican Republic that had ripple effects long beyond the handful of all-inclusive resorts that caused the issues.
The distance between where those isolated events took place and Cabarete, a laid-back beach town with nary an all-inclusive in sight, is over six hours. There are currently no travel alerts from the US Department of State in place for the Dominican Republic, where the travel advisory status remains at "Level Two: Exercise Increased Caution" — the same ranking currently assigned to Germany, Belgium, and Italy.
And yet, tourism has suffered greatly. Isn't it incredible to think you can do good, just by getting on a plane and going on an adventure? Of the ten million residents of the Dominican Republic, a vast number rely on tourism to feed their families — and so we very much look forward to supporting the local economy with our upcoming trip. Read more from our host resort's onsite yoga teacher on this very topic.
Clearly, I can't wait to be back in Cabarete. Here's hoping I've planted a seed of an idea for you, too.
Have you been to or ever considered a trip to the Dominican Republic?

Pin it!